Update Camalie Networks Wireless Sensing
A shared Camalie Networks soil moisture sensing network which spanned two independently managed vineyards separated by about a half mile was used to manage irrigation in these vineyards in 2008. . The results show two very different irrigation paradigms being used and numerous unexpected learnings which directly affected irrigation decisions. Having visibility into the status of moisture in the soil changes irrigation decision making fundamentally.
Wines and Vines published a great article, Wireless Network Monitors H2O about our success in using wireless soil moisture sensing in 2007 written by Tom Ulrich. On June 19, 2008 Mark presented a technical poster, High Density Wireless Soil Moisture Monitoring for Deficit Irrigation Management at the ASEV conference in Portland Oregon showing that less labor intensive soil moisture sensing can substitute for manual leaf water potential measurements. Crossbow Technology introduced in April a commercial version of the sensor network we used which they call eKo Pro. At the same time we started up a new company, Camalie Networks LLC to sell this product and associated irrigation management services.

Paper presented at ASEV 6/19/08. Powerpoint presentation: ASEVPoster10.pptx
Soil Moisture Correlation to leaf water potentials
Camalie vineyards currently has one of the most advanced soil moisture monitoring systems in operation in U.S. agriculture today. It uses the wireless sensor networking technology developed by UC Berkeley in collaboration with Intel Corp and commercialized by Crossbow Inc. It is used for optimization of irrigation; reducing water consumption and associated pumping energy costs as well as increasing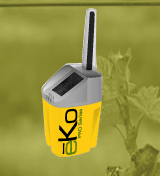 grape quality without sacrificing yield. It also serves as a monitor of the irrigation system, failure of which can cause substantial long term impact on the large capital investment in the vines. This monitoring system, Camalie Net, as such provides a form of risk management.
Mark Holler, owner of Camalie Vineyards, developed interface circuitry and adapted Crossbow hardware and associated TinyOS firmware for the Watermark soil moisture tensiometer, soil temperature probe and water pressure sensors used in the first version of this system which was deployed in the summer of 2005. Mark is also the grower who looks at the data and makes the irrigation decisions. Ramon Pulido vineyard manager for Camalie Vineyards brings 32 years of growing experience on Mt. Veeder to the vineyard. He manages all of the cultural practices, spraying for powdery mildew, and erosion control using cover crop in the vineyard.
Soil moisture sensing began at Camalie Vineyards in 2003 using a Davis weather station with three Watermark Sensors. This data was found to be quite useful but, it was clear data from other irrigation blocks was needed to irrigate optimally in them as well. The lack of a scalable solution to gather data from more locations was the driving force behind the development of Camalie Net.
Camalie Net was used during the 2005, 2006 and 2007 growing seasons to guide irrigation decisions in the 4.4 acres of Camalie Vineyards. Yield per vine in 2005 was double that of the 2004 yields for same age vines yet water consumption was constant. Water consumption normally goes up with canopy size which more than doubled for these 2.5 year old vines in 2005. Grape quality was excellent. Some of this success was due to generally better than average weather in 2005 but, we believe our visibility of the soil moisture played a significant role. Extra drippers were added to some areas of the vineyard based on the soil moisture data. Also irrigation intervals were shortened based on sensor data to reduce the amount of water that penetrated below the root zones where it would be wasted.
In 2006, the third year for our vines, the yields again doubled from 4 tons to 8 tons.
In the 4th year, 2007 the yield again doubled to 16 tons of fruit that was sold and another 1.5 tons that we made home wine from. The yield was 3.97 tons per acre which is very rare on Mt. Veeder especially with water limited due to less than half the normal rainfall in the winter of 06/07. Water had to be purchased but thanks to our precision irrigation we minimized water purchasing and still had great yields. Fruit quality was again excellent although early rains near harvest bloated some of the first fruit harvested, reducing Brix levels to the 25-26 range. Some of the last fruit harvested after a week or two of dry weather, however, had a late in the day Brix average of 29.7!
At the end of the 2007 growing season the network was upgraded from my 433MHz prototypes which use Crossbow mica2dot radios to eKo Pro series alpha units opperating in the 2.4GHz band. The network was scaled up at this time from 10 sensing sites in one vineyard to 17 sites covering Camalie Vineyards and the vineyards of two neighbors and the Mt. Veeder Irrigation Co-op was formed. On March 3, 2008 it was scaled up again to 25 sites.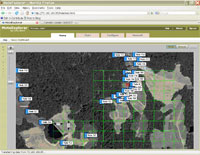 In May six of the nodes at Camalie Vineyards were fitted with third soil moisture sensors at 36" depth. In April 2008 Camalie Networks LLC was formed to sell, customize and service this technology.

Chronology of Progress:
Wines and Vines Article published 7/2008
ASEV poster on Soil Moisture Correlation to leaf water potentials presented 6/19/08
Camalie Networks LLC Founded 4/2008
Mt. Veeder Irrigation Data Co-op Initiated 2/25/08
Soil Moisture Network upgraded from 433MHz to 2.4GHz motes 11/2/07
Fermentation Monitoring first Results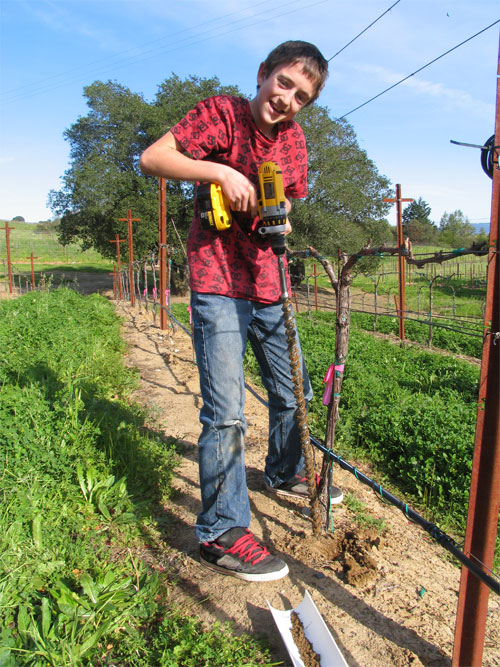 10/3/07
Camalie Vineyards Case Study in Crossbow Mote Deployment Powerpoint presentation for Crossbow user's group 4/11/06 Report on 2005 season results.
Camalie Networks Product Offerings
MoteExplorer, Naked Acres, Mt.Veeder Co-op Mark's Monitors
You can contact me on my cell at 650-799-6571 or via e-mail at mholler@pacbell.net
Some other folks using soil moisture data networks.
http://www.flow-aid.wur.nl/UK/ In the U.K. and Netherlands managing water for potted plants.
http://www.valledecasablanca.com/ Some folks in the Casablanca Valley in Chile growing grapes.
Brown Vineyards
Scheid Vineyards
Beckstoffer Vineyards
Ben Wizard, New Zealand.
Vineyard 29
Pickberry Vineyards -
Last edited by Mark Holler, 3/5/08
Little Markie the inventor placed it on a dare,
Where it was attached nobody seemed to care,
But when it sent a signal the temp it did show
That Mark was psychokinetic and really in the know.
Mote 73 over and out! by Gary Bacon 8/5/07
Old Prototype Links: Naked Acres; CamalieFrames