Camalie Networks
Camalie Networks is the wireless sensor networking enterprise of Camalie Vineyards. Its mission is to provide grape growers with advanced irrigation information technology to optimize grape quality and yield while minimizing water and chemical use.
Camalie Networks (CN) is the first company to provide a web based vineyard irrigation management system based on Crossbow Self Organizing Wireless Sensor Network Technology. Camalie Vineyards has been using wireless soil moisture sensing technology since 2003 to make irrigation decisions and has used this experience to optimize the system which it is now making available to other growers.
Products/Services:
| | |
| --- | --- |
| | Weather proof, solar powered soil moisture sensing stations capable of measuring up to three soil moistures, one soil temperature and the ambient temperature at the top of a trellis stake every 10 minutes. The sensing stations are also network nodes which use Crossbow's self organizing mesh technology to transmit and relay data packets to a base station with a web server. Data is available as trend graphs in real time via the internet. The Crossbow mesh automatically forms a daisy chain of motes to relay data packets long distances and allows easy scaling to more than 50 stations. The mesh firmware adopts new routes as motes are added with no user intervention or reconfiguration whatsoever. The network uses the 2.4GHz band and does not require an RF license. Cost per station is $420.00/node + $34.00/soil moisture sensor + $25.00/ soil temp sensor + $90 for installation including drilling and placing soil moisture sensors and routing sensor wires along the irrigation line and up a stake to the transceiver unit. |
| | Development of a web based Irrigation block map with sensor locations clickable to access soil moisture trends. This is implemented using a Manifold Geographic Information System map server which is capable of storing and presenting almost any information relevant to objects on the map. The basic clickable map interface to the trend data for your vineyard with logo is available for a one time fee of $995.00. Here's a Sample. This includes a sampling plan consultation with principal Cynthia Bickerstaff and training on how to use the data in making irrigation decisions. |
| | Hosted Web Service: Camalie Networks will maintain your data base, trend graph web pages, GIS map and provide web service for a fee of $500.00/growing season. Your vineyard must be within radio range ~1/4 mile of a Camalie Networks installation or have a Camalie Networks gateway/server device connected to the internet at your vineyard. The gateway/server device sends data packets from your vineyard over the internet to Camalie Networks' hosting service. It is also capable of serving web pages of your data on your local LAN with no subscription fees. This gateway device is available for $1755.00. With an internet connection and appropriate IP address configuration this gateway will serve web pages directly to the internet as well if you prefer to do your own maintenance. |
| | Data analysis consultation and other support to customize the system to best meet your specific needs. $50/hr. |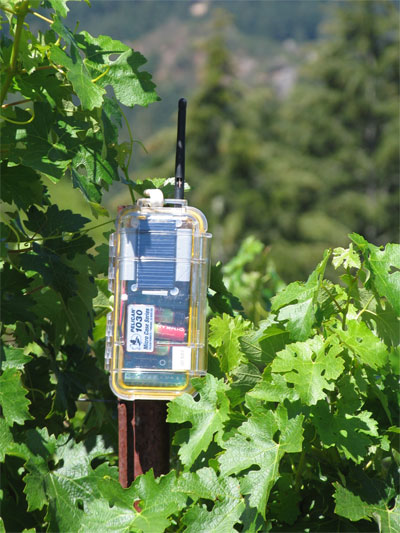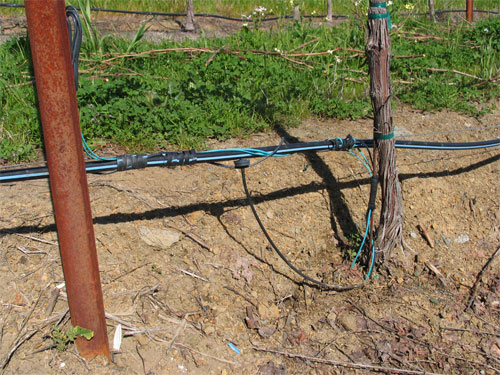 Soil Moisture station and sensor wiring.
Camalie Networks
PH: 650-799-6571
FAX 650-326-2155
mholler@pacbell.net
Mt. Veeder,
Napa, Ca. 94558
Note on pronunciation: Camalie rhymes with "family"
Last Updated 3/6/08 M.Holler