Grape Grower's Report 2007
In general the vines are doing very well. See the photos below. We have cleaned up the irrigation system and done some focused fertigation. We have observed from soil analysis, petiole analysis and grape analysis that the grapes in block 3 are low in nitrogen which contributes to sulfide production during fermentation if enough nitrogen isn't added in the form of yeast nutrients. Because of this low nitrogen and because the yield of the vines is still quite low we feel that fertigating with nitrogen is called for in this block. We applied approximately 10g/vine to block 3 around bud break and will fertigate with another 10g/vine closer to veraison.
I have more than doubled the number of soil moisture sensors and sampling locations within the vineyard. We now measure at 13 different locations across the 4.4 acres. The software has been upgraded as well. With the light rain we got this year, only 17 inches vs. the 40 inches we typically get we will be watching the irrigation closely, conserving water as much as possible since we don't know how much water to expect from the wells. Our neighbor's reservoir which we receive 30% of our water from is about 90% full so we shouldn't be short much from them. The bulk of the vines are now 4 years old. We are expecting the yield to increase by somewhere between 25 and 50% because of the age of the vines but, we have yet to do a bunch count to make a more accurate estimate. The vineyard produced about 2 tons/acre last year.
We have begun our spraying for powdery mildew with two applications of wettable sulfur thus far. Ramon and son have been doing shoot thinning and suckering the last couple weeks. We are trying to reduce the bunch crowding between vines that we had last year. We have mowed the vineyard twice now. We are letting some of the cover crop grow in the most vigorous old vine block to cut down on the vigor there and leach out some of the water that is there in excess. We took pruning weight measurements which are posted on the vitaculture page of my site. They highlight the variations in vigor across the vineyard which we continue to try to reduce and compensate for by varying crop load. We applied gypsum and some Calcium Nitrate to Block 1 east to reduce the acidity there which seems to be helping.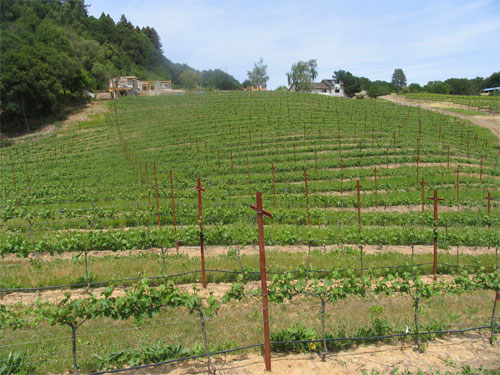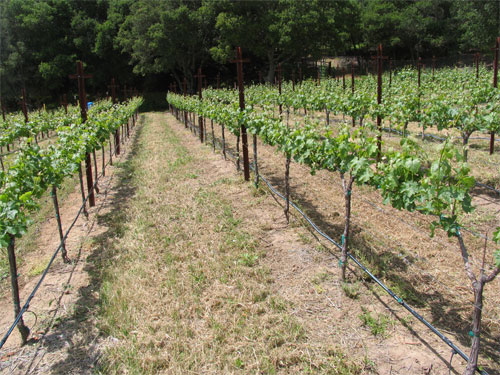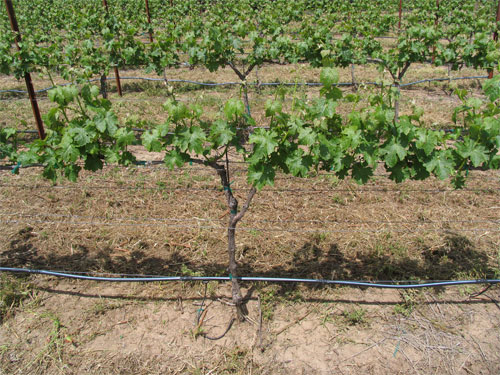 The vineyard yielded an all time record 17.5 tons of grapes last year from just 4.4 acres of vines. Ramon Pulido and our wireless soil moisture sensing were instrumental in this success.
Last updated 7/12/08 M.Holler