2007 Grapes for Sale from Camalie Vineyards
SOLD OUT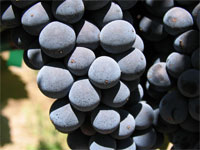 Grapes: Cabernet Sauvignon French Clones, 337, 338, 191 Planted spring 2003
Quantity Available: 8-10 tons
Asking Price: $3.00/lb. +5% if we pick them.
There are also 1.5 tons of grapes from 30 year old vines available for the same price per ton.
Barrel samples of the wine made from the 4 tons of grapes the vineyard produced in 2005 can be tasted at the vineyard.
Contact: Mark Holler 650-799-6571 cell, Alternative 707-224-5842, 650-325-4510
Here are some more details about the grapes and how they are grown. Contact Owner Mark Holler with questions or to set up an appointment to view and taste the grapes and/or associated wines.
The vineyard is managed by Ramon Pulido and myself, owner, Mark Holler. Ramon has 25 years experience as vineyard manager growing grapes on Mt. Veeder mostly with our neighbor Domaine Chandon. I am winemaker for Camalie Vineyards and have been making wine from the grapes there since 2001 when we purchased the vineyard. We believe our feedback to growing based on experience making wine from the vineyard has resulted in significantly improved grape quality. We make 200 gallons a year primarily for our own consumption and that of our friends.
Camalie Vineyards is a 23 acre family estate located on Mt. Veeder about 6 miles northwest of Napa at 1871 Mt. Veeder Rd.. The vineyards consist of 4.4 acres of south facing slope ranging in elevation from 910' to 1030' elevation. The grade ranges from 5% to 20% over various parts of the vineyard. Rows run roughly East to West with a 10-20 degree (Toward a direction of WSW to ENE). check this topographic map for details.
The vineyard is planted with French clones 337, 338 191 traceable to Entav through Caldwell Nursery. They were planted in 2003. We planted a mix to provide more complexity to the wine made from these grapes. Rootstocks were also varied but, in this case to compensate for weaker soils in certain blocks of the vineyard. Heartier rootstocks like 110R and 140 were used along the eastern edge of the vineyard to compensate for less vigorous soils in these areas. Looking at the vines it is very difficult to tell where the transition is. Cultivars, rootstocks and their locations in the vineyard are shown on this cultivar block map. You may need to zoom in a little to read the cultivar names on some blocks.
No pre-emergent herbicides are used. Round Up is used in a swath 18" on either side of the vines; applied once in the Winter and again in early Spring. Powdery mildew is controlled with very fine mist sprays of Rally and wetable sulfur. No sprays are applied after veraison. The grapes are very clean. See photos.
Vine spacing is 4.5' and row spacing 10' in the lower vineyard. In the upper vineyard the vine spacing is mostly 4.5' with rows spaced 7' apart but there are some 300 old vines where the vines are spaced 7' apart with a row spacing of 7'. The cover crop is native California grasses, mowed as needed up to about veraison.
Irrigation is applied through 2 liter/hr drippers at each vine location. Some dryer locations have two drippers. Water is routed through a quarter inch spaghetti hose from the dripper to 12" below the soil surface at each vine location. This conserves water by reducing evaporation and reduces weed growth because there are no wet spots at the surface where weeds tend to germinate. We irrigated with about 2 gallons per week post veraison and applied about 60 gallons per vine over the first two seasons of vine growth to establish healthy vines. This year we will scale back irrigation to a controlled deficit to optimize grape quality. Soil Moisture is monitored at two different depths at each of 10 different locations across the vineyard to allow precision irrigation of each of the unique soil/sun exposure blocks. Pressure chamber measurements of leaf water potential are used to monitor the relationship between soil moisture and vine stress. The soil is predominantly expansive clay which holds a great deal of water allowing us to begin irrigation relatively late. The vine roots grow deep to access this water.
My forte is the use of empirical techniques and data analysis to continuously improve the quality of both our grapes and wines. I have made wine from this vineyard's grapes for 5 years now and have factored my experiences into the grape growing. The vineyard currently has a 10 node wireless sensor network in the vineyard sending data from 30 temperature and soil moisture sensors spread across the vineyard.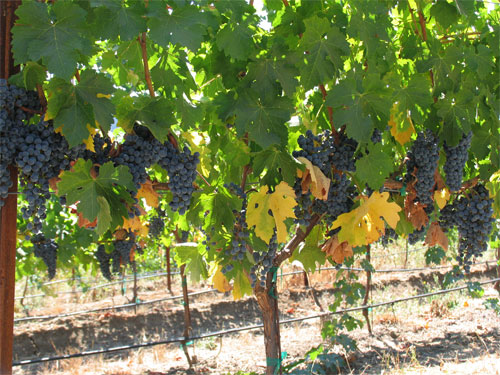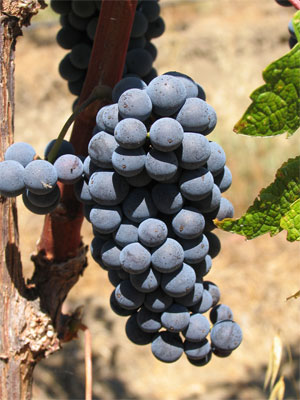 Typical grape vine photo as of 9/3/2005.
This vineyard is on our family estate which includes a home, a cave and an agricultural building. We spend most of the summer here and weekends the rest of the year. We are deeply involved with managing the vineyard. The kids and I do suckering, weed pulling, irrigation maintenance. We participate in pruning, and mildew management but Ramon and his crew does most of this work. This vineyard gets much more attention than most larger scale vineyards.
There is also 3/4 tons of Cabernet Sauvignon available from the 300 vines that are now 30 years old in the vineyard. The scion type is unknown, probably clone 4, but the rootstock is St. George. Below are some photos of the old grape vines and grapes. We have made wine from these grapes for 4 years. We have found that the older vines produce a more intense flavor with sharper edges than the young French Clones. Samples of these very excellent wines are available. Price for these grapes is the same as for the younger ones.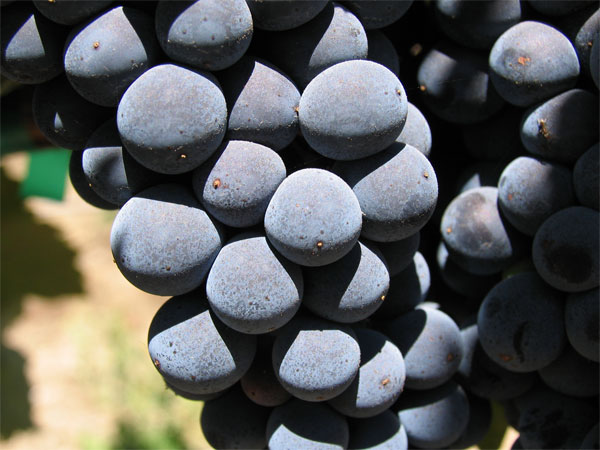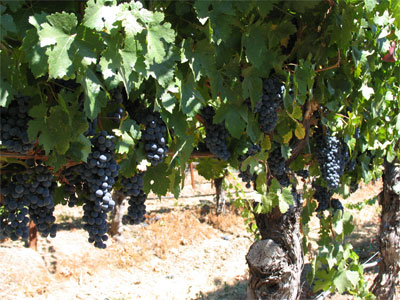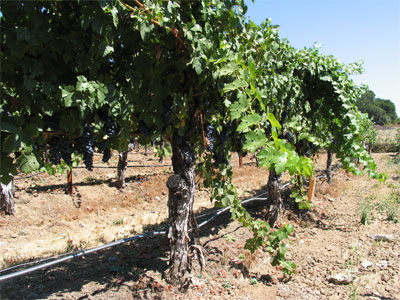 We look forward to hearing from you.
More details about Camalie Vineyards can be found on our home page. Real time weather and web cam views are available there when the server on site and the satellite link are working.
Mark Holler 650-799-6571
Last updated 8/21/07 M.H.