WineMaker's Report
Forest Ave. Wine Coop 2005
On 9/27/07 we tasted the wine again and had a few observations. Q4 was our favorite, good balance, most fruit, carmel in nose. SG4 had less fruit and was hotter with a little bitterness on the finish. WC6 no comment, Q3 was somewhat more astringent than the others. In general we thought it was ready for bottling but, could use more aging in the bottle to soften up the tannins.
On 11/21/06 The wine was sampled and analyzed again at the same time the 2006 was analyzed post pressing. Here are the results which are somewhat different from the prior testing. They are also more complete. Although 2005 produced larger grapes there is little sign of reduced intensity in this wine. It could easily be diluted to bring the alcohol levels down. I would recommend a 3% dilution to bring the levels down from 15.1% to 14.7%. This dilution will produce about 2 cases of extra topping wine. Acidities should be brought up some to the 5.5 range on Q3 and Q4 also. We are scheduled to have a tasting on 11/29 to address these questions.
Barrel T.A. pH Residual Sugar Alcohol Taster's Notes (M.H.)
Q3 5.15g/l 3.8pH .3% 15.13% Inky, good oak,hot, bitter finish, good mouth feel
Q4 4.93g/l 3.8pH .3% 15.15% Similar to Q3
SG4 5.5g/l 3.75pH .4% 14.9% Best of all these, better oak, better balance
WC6 5.4g/l 3.74pH .3% 15.2% more astringency
WC5(2003) 6.3g/l 3.66pH .3% 14.4% Dill Pickle nose, cooked veg in taste, but balance perfect, Still improving, not overoaked, should aerate and let sit another year. Not ready to dump. This was racked to a tank back in my garage and half was bottled while the other half was eventually dumped. My first truly bad wine in quantity.
On 5/3/06 Wine was sampled from the barrels and some basic acidity analysis done. Here are the results:
Barrel Titratable Acidity pH Taster's notes M.H.
Q4 4.9 g/l 3.86 Harmony Yeast Lots of CO2 yet.
Q3 5.5 g/l 3.74 Noble Yeast
WC6 5.6 g/l 3.64 Noble Yeast
SG4 5.0 g/l 3.79 Harmony Yeast
Harmony yeast wine had lower T.A. by about 10%. T.A.s dropped about 1 g/liter since settling in the tanks. M.L. was responsible for some of this reduction. pH's are reasonable but a little high. Need to taste and probably add acid.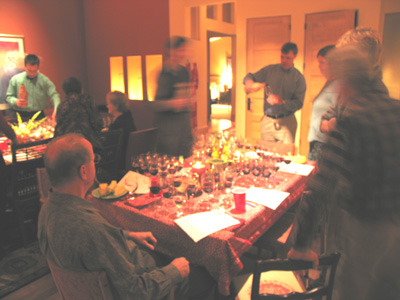 On 2/4/06 Jeff and Diane hosted our first blind tasting of the 2005 vintage. Here are the scores.
1. + 15 2002 Wine Coop Domaine Chandon Grapes WC5
2. +11 2004 Wine Coop Blend of two barrels by Gary.
+11 2001 Camalie Barrel CV1
3. +10 2005 Napa Coop New Vines
+10 2005 Napa Coop Old Vines
+10 2004 Camalie
+10 Syrah Columbia Valley
4. +6 Wine Coop 2003 barrel WC6 Domaine Chandon grapes
+6 Pleades Thackers Blend
+6 2005 Palo Alto Coop Harmony yeast
+6 2005 Palo Alto Coop Noble yeast
5. +2 French Bordeaux
Below is the Malo- Lactic chromatograph. You can see that the M.L. fermentation was partially complete for most of the tanks but least so for the smaller tank H and very little for the Carmenere on the left and the Merlot on the right. The way to read this is to look for the Malic acid spot for each sample. The Malic acid spots are at the height shown by the spot over the pure Malic sample labeled M. The T and L spots are for tartaric and lactic acid respectively. You can see the tartaric spot at the bottom, Malic in the middle and the Lactic up at the top.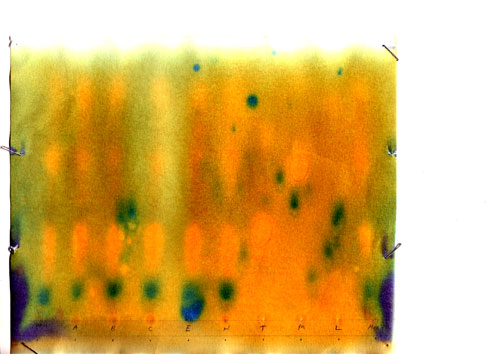 On 1/7/06 the wine was racked off the lies in tanks in Mark's garage to barrels in Tim's basement. Four full barrels were filled and 14 bottles of topping wine was left over for a total yield of 240.7 gallons after starting with 261.3 gallons. Yield was 92%. Actual wine to lies ratio was more like 95% but some wine was lost to hoses and winemakers. Tim, Glista, Mike J. Mike O. Mike H. Jeff, George, Mark and Cindy participated. John and James, Tim's sons also helped out. The wine is tasting quite good according to consensus but, it still has a lot of CO2 so it is impossible to judge the mouth feel very well.
The wine was racked to barrels as follows,
Noble Yeast - Tank A to Barrel WC6, French Oak, Mendocino Oak Medium Toast used once for 2003 vintage.
Harmony Yeast - Tank B to Barrel SG4, French Oak, Seguin-Moreau, Medium Toast+, New Barrel
Noble Yeast - Tank C to Barrel Q3, French Oak, Quintessance Medium Toast+, New Barrel
Harmony Yeast - Tank E to Barrel Q4, French Oak, Quintessance Medium Toast+, New Barrel Top 1/3 of E actually went into Q3 and much of tank H which was also Harmony yeast went into Q4.
1/6/05 M.L. chromatograph done. results not yet available.
On 11/2/05 The wine was analyzed with the results below.
The adjustments were successful at getting the alcohol level under 15% in almost all cases and the acidity into the 6s. pH is a little high but, this is characteristic of Napa Valley grapes. The samples were pumped down and tasted. They were all clean with no hints of green pepper or vegetables. The grapes were definitely more ripe than the 03 and 04 as desired. This wine is right on target and in good shape. I thought I noticed a little more fruitiness for the Harmony yeast splits but, it was not clear consistently. I innoculated the wine with Malo-Lactic bacteria and added associated nutrients.
Tank Yeast Vol. T.A. pH Alcohol
A Noble 58 gal. 6.85 g/l 3.64 14.9%
B Harmony 59.4 gal. 6.2 g/l 3.79 14.6%
C Noble 57.5 gal. 6.82 g/l 3.67 14.7%
E Harmony 60 gal. 6.1 g/l 3.77 15.1%
H Harmony 26.4 6.45 g/l 3.85 14.9%
On 10/29/05 5 members pressed tanks A, C and E of the wine and on 10/30 the other 7 members showed up to press tanks B, D, F and G. We got 261 gallons of wine from 336 gallons of must for a yield of .776 which is quite a bit higher than last year's .67 average for the Rubissow grapes. The extra wine will allow us to fill 4 full barrels rather than 3 1/2.
Below is the fermentation graph for the wine to 10/12 at 11:00am. Fermentation is essentially done for the Harmony Yeast batches while the Noble yeast batches still have about 12% to go. We are switching to a once a day punchdown just for the standard yeast batches. The Harmony yeast batches won't be punched any more.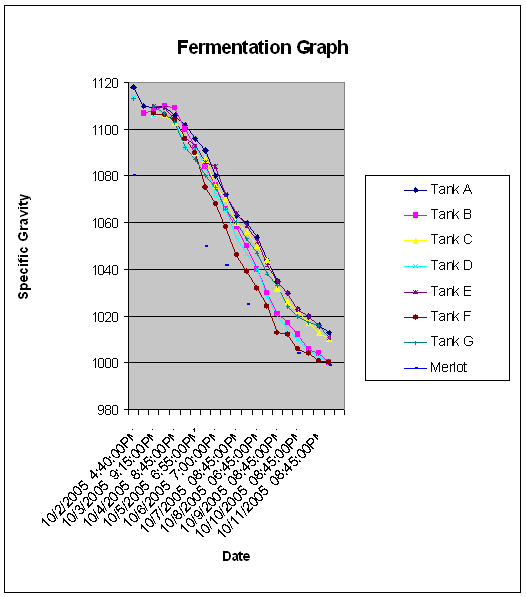 At the end of picking the Grapes. This big crew had the job done by 11:00am.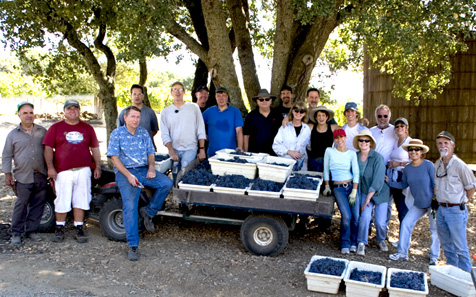 Crush Results
10/2/2005
Camalie
Pre Dilution
Water
Post Dilution
Post Sulfite
Tank
Block
Brix
Vol. Gal.
Addition
Vol. Gal.
pH
T.A.

g/l
A
3&4, rows ~ 57-60
26.4
46
2.34
48.34
3.61
5.5
B
3&4, rows ~ 54-56
49
2.5
51.5

C
3&4, rows ~ 49-53
26.3
48
2.44
50.44

D
3&4, rows ~ 45-48
26
45.5
2.32
47.82
3.66
5.9
E
3&4, rows ~ 44-47
49.7
2.53
52.23

F
3&4, rows ~ 40-43
25.8
51
2.6
53.6

G
3&4, rows ~ 35-39
25.7
30
1.53
31.53
3.74
6.1
H
Camalie Merlot
27.5
5
0.5
5.5
Total Wine Coop
319.2
335.46
Picked Blocks 3 and 4 down to row 61.

Total weight picked 3350 lbs.

Total must volume pre dilution = 320 gal.
Total Must Volume Post Dilution = 336 gal.
20 people picked on 10/1/05

7:30-11:00am

Crushed on 10/2/05

9:00am - 2:30pm
Grape samples were provided to Gusmer Enterprises for analysis of nitrogen levels to provide a basis for determining nutrient levels for the yeast during fermentation. Seven bunches per location were taken for analysis from 3 locations on 10/14/05
Cultivar Block Brix T.A. pH NOPA Amonia Nitrogen Yeast Available Nitrogen (YAN)
1 New vines upper 25.2 6.3g/l 3.89 141ppm 54ppm 195ppm
4 Old Vines 23.5 9.1g/l 3.39 79ppm 87ppm 166ppm
5 New vines lower 27 5.7g/l 3.63 58ppm 7ppm 65ppm
The lower block 5 where the grapes for the coop came from was very low in nitrogen and should have had more nutrients added however, the levels we added were sufficient to prevent the production of any sulfides. Since the nutrients were likely fully consumed there is likely no taste contribution from the nutrients which can happen if excess nutrients are used.
Winemaking strategy for this year:
As always our goal is to make top notch Napa hillside Cabernet Sauvignon. We want to consistently beat $50 bottles of commercial Napa cabs in blind tastings as our 2002 Wine coop wine from barrel WC5 has done.
Make one barrel of wine with very ripe fruit. We tasted and liked the wine from the 27 Brix grapes from the young French clones picked in 2004. Water back and add acid to the wine fairly aggressively in this scenario. Use a single yeast. Some of the grapes will be ripe enough to do this. See block 5 on the Brix Map below. It is now at 25.2 Brix and should be above 26 by harvest time.
Make 2 barrels of wine in a typical way (like the 2002 Wine Coop barrel WC5) with minimal intervention to adjust alcohol and acidity. Pick at 25 Brix. Make one of these barrels with the standard Saccharomyces Cerevisiae yeast and the other with the new Harmony yeast from Chr Hansen. Harmony includes two additional strains of yeast, Kluyveromyces thermotolerans and Torulaspora delbrueckii, isolated from wild yeasts which provide more "berry fruit expression, softer tanins and prolonged mouthfeel".
Grapes will be picked from the riper part of the vineyard which is blocks 5-11 downhill from the house.
Average Ripeness of the new vines down hill has been:
8/28 19.3 Brix
9/3 20.5 Brix 9.5 T.A. 2.87pH
9/11 21.4 Brix 7.5 T.A. 3.4pH
9/18 22.4 Brix 7.2 T.A. 3.3pH
9/24 24.4 Brix 6.5 T.A. 3.38 pH
10/2 26.0 Brix 5.9 T.A. 3.66 pH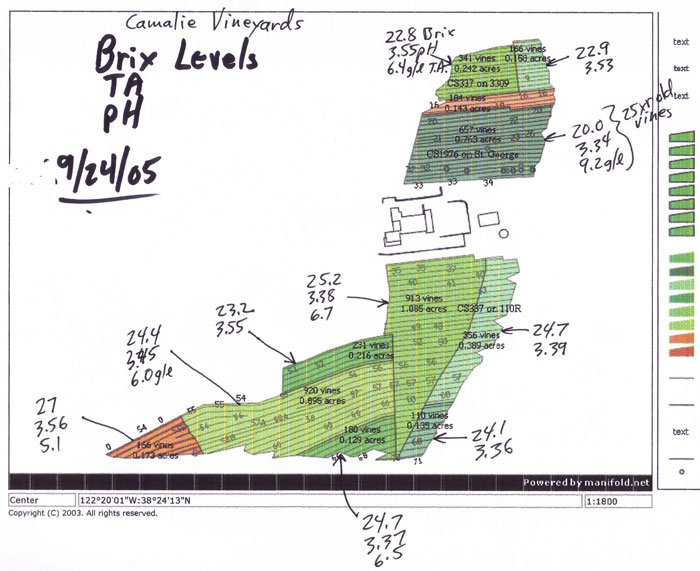 It looks like the grapes are going to be around 25.5 Brix at harvest. Some as high as 27. Looks like we will get plenty of ripe flavors. Very little signs of shrivelling at this point which means the high Brix is due to maturity not dehydration.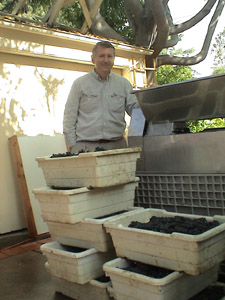 Mark Holler, Camalie Vineyards Winemaker
Winemaker's Blogs on vintages 2004, 2003, 2002, 2001
Camalie Vineyards home page.
Last update 10/07/05 M.H.