Camalie Vineyards Wine Coop 2008
The Camalie Vineyards Wine Co-op is a small informal cooperative for the purpose of making very fine Mt. Veeder wine and having a lot of fun in the process. We believe that getting involved in the making of the wine provides a more intimate relationship with the wine and a much stronger appreciation of it when we finally open a bottle of our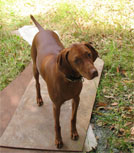 own making and drink it.
This year's winemaking is inspired by the memory of Camalie's favorite friend Rusty. A goal of the winemaking is to make wine that will age well long term and provide many years of remembrance of our dear friend. The goal is to make a wine that is as good as Rusty was, The Best.
This year will be the 8th year of the Co-op and the second year of making wine in Camalie Vineyards' wine cave. Construction of Camalie House is finally complete which means we now have a great place to cook, eat, swim and relax between harvest and crush. There are even two guest rooms and several sleeping nooks where participants can even sleep over.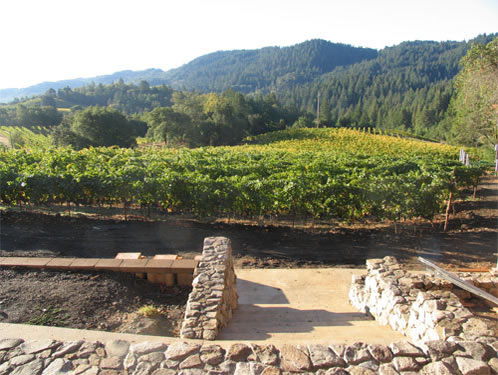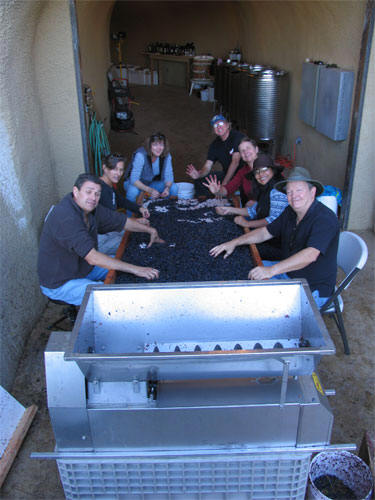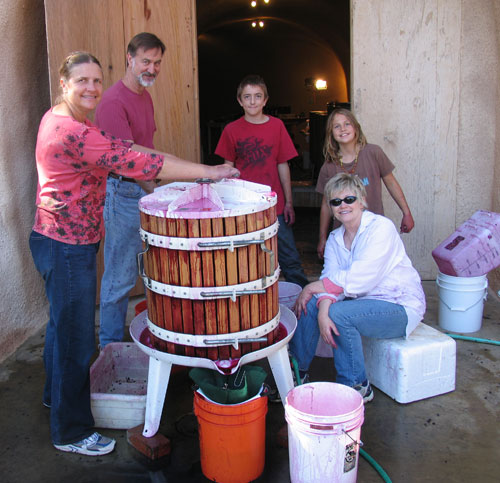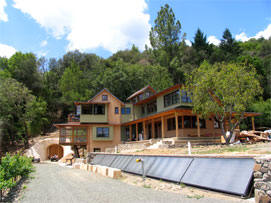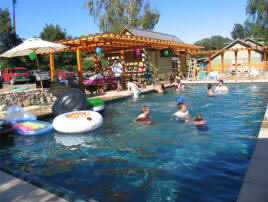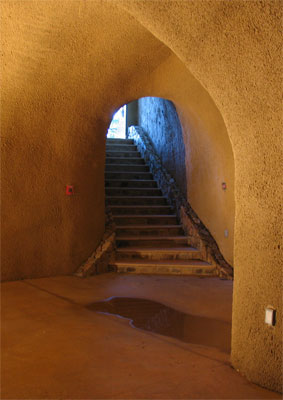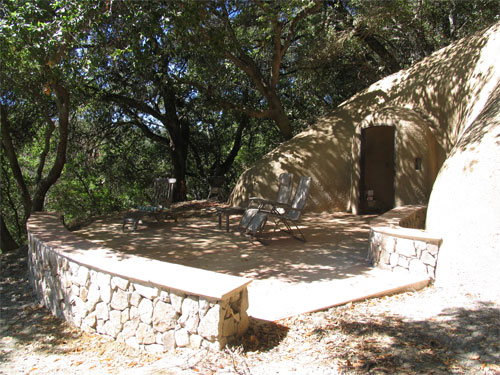 Winemaker, Mark Holler, is now preparing to produce his 8th vintage. We are planning on making a total of 3 1/2 barrels (85 cases) of wine plus some topping wine on two occasions about 2 weeks apart. We plan to make 2 barrels of Cabernet Sauvignon, 1 barrel of Merlot and one half barrel of Carmenere some of which will be blended as we see fit. About 1/5 of the cab will come from the old vines, which will be allowed to ripen maximally this year for a change, target Brix >26.

The wine style will be long hang time to achieve maximum maturity of the fruit this year with high intensity big tannins and dark inky claret color. I am thinking we should increase the fermentation peak temp a little to bump up the tannins relative to last year when the peak temps never got to 85 due to the cool conditions in the cave. We will water back the must 6-10% to end up with about 14.6% alcohol level and increase acidity via tartaric acid addition to 5.5-6.0 g/l for balance and keep the pH in a reasonable range under 4.0 to reduce the probability of spoilage. We have dropped slower ripening bunches in the vineyard 6-8 weeks before harvest to reduce the variance of ripeness and advance ripening of all the grapes. We will minimize use of sulfites. We add about 50ppm of sulfite after crush and nothing subsequent to that.

The co-op buys all of its grapes from Camalie Vineyards at $3.00/lb for Cab and $2.00/lb for Merlot. Approximately 3 lbs. of grapes are required per bottle and each barrel yields approximately 300 bottles of wine which translates to a finished cost of about $24/bottle of Cabernet Sauvignon or Carmenere and $21/bottle for Merlot.

Camalie Vineyards provides winemaking facilities including equipment to harvest the grapes, crush, press, barrels, 2-yr. barrel age in cave, chemical analysis, consulting, additions, pumps for racking and bottling. Bottles, corks and capsules are also provided. The cost to members for these services is $4500/barrel. Co-op members are responsible for providing all labor to make their wine except for analysis and additions.

The minimum size share is 5%, about 4 cases, and costs $1190, half of which is due at crush and the other half at bottling.

Labor involved includes picking grapes, crush, culling, bucketing must to tanks, disposing of stems, cleaning tanks and equipment. Punch down, and specific gravity measurements which will be done twice each day for roughly ten days by two-person crews. Bucketing must to the press, pressing, bucketing wine back to tanks, removing pomace, carrying to big bin, preparing barrels, moving barrels into place, pumping wine to barrels, tasting, topping, washing bottles, filling, corking, capsuling, filler cleaning, setup/teardown, carrying out cases of wine.

If the wine goes bad due to a microbial contamination that is not due to a clear breach of hygiene standards then participants take the risk. Also if the wine just doesn't taste good for some reason the participants take the risk. Sulfide problems included.

Participation in the wine coop includes invitations to the many events associated with the winemaking many of which don't involve work such as the barrel mix tasting party which is great fun. See http://Camalie.com/Events.htm . There are other events such as barrel tastings to monitor and top the wine which you will have an opportunity to participate. We also have a spring gathering in the vineyard to see the mustard bloom and a gathering in late August pre harvest.

Participation is by invitation only. If you are reading this you are already in a rarified class of wine connoisseurs Hope you decide to join!

Mark cell 650-799-6571

Wine Coop Membership: Mike H. 5% Arkin-Tilt 5%. Tim and Glista 5% Ken Pocek 5% Alan Broad 2.5% Dave and Roxanne 5% Adam Koplan 2.5% Rob Robinson 2.5% Mark and Cindy What's Left Note: case estimates are approximate because they depend on pressing and racking yields. Estimates are based on prior year's results.

A typical event calendar for the coop looks like this.

September 13th – Merlot Harvest and Crush day, This date depends on the grapes but we always have it on a Saturday and we firm it up about 2 weeks before. I'll keep you posted. Activities for the day include picking grapes starting early, running the grapes through the crusher destemmer culling MOG before and after, bucketing must into the 6 tanks. Party in the afternoon, wine tasting. This is a large event with many friends invited including WineCoop members friends. Target 30-50 people participating to make the work go quickly. Co-op members get first priority for sleepover accomodations after Holler Family.

September 14th Start Fermentation and for the next 10 days punchdown the must twice a day and monitor specific gravity. Some additions of yeast nutrients.

September 27th Cabernet Sauvignon Harvest and Crush Day. pick and crush at Camalie on a Saturday. There will be 50-100 people invited to this big party.

October 29th – Pressing. Then the malo-lactic fermentation will be initiated.

December 10th – The Barrel Mix Tasting: This tasting is to evaluate the new crop of wines from the seven vats. This will help us determine which wines to place in which barrels.

December 17th – Rack to Barrels: The wine will be transferred from the stainless steel tanks to oak barrels that are stored in the cave.

January to July Various dates, Barrel topping and tasting for progress, approximately bimonthly.

July rack from barrel to barrel.

2nd July after crush first Bottling.

2nd Nov after crush second bottling

Last updated 10/7/08 M.H.